As a former NASCAR driver and 2-time ARCA Racing Series Champion, Bill Venturini knows a lot about operating at peak performance. So does Kevin Radvany, the Team Manager for Hillman Racing. They both agree on how task-based disposable wipers have helped their team increase performance from auto shop to pit stop.
When Venturini began working with Tork, Tork visited and looked at everything the racing team does. They suggested low-lint wipers, since they do not leave residue on the car before being painted.
To improve their performance Hillman Racing team also shifted from textile shop rags to wipers and industrial cleaning cloths from Tork. Kevin Radvany sees benefits "When we used shop towels, we risked metal flakes getting into our 750HP motors, which is enough for the motor to explode."
Bill Venturini "We were unsatisfied with the quality of the textile rags we used before. Sometimes you'd get a rag with metal shavings stuck to it, and you'd scratch your hand or ruin the finish of the car."
Bill Venturini continues to find new uses for the multi-purpose towel "You can do everything from wiping up grease to washing your hands to polishing cars."
Keeping everything clean helps to diagnose future problems. If something is leaking on a car that is exceptionally clean, you can tell immediately what's leaking.
Kevin Radvany "With the old dispensers, we used to grab one towel and 3-4 would come out – increasing waste and reducing efficiency. With Tork, we don't have this problem. The products also arrive quickly – and NASCAR is all about speed."
The key to the Venturini Motorsports success is that they constantly double check everything they do. If they see something that could potentially be a problem, they don't overlook it, they fix it.
Kevin Radvany "I've actually only had two cars my whole life. The reason I keep 'em for so long is proper maintenance. Whether that's using brake cleaners or Tork wipers during oil changes, I keep them in top performance."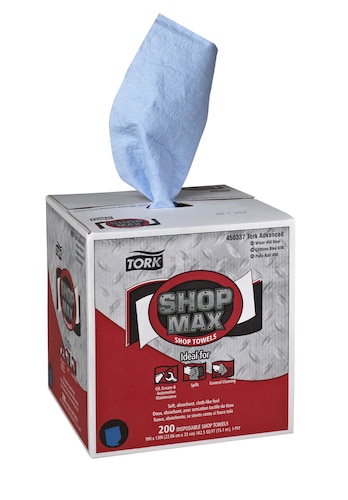 SKU: 450338 Advanced ShopMax Wiper 450, 1-Ply 200-Sheet Roll
See your local jobber for pricing.
https://autobodysource.com/where-to-buy/
Credit: This content is published by Tork USA. © 2018 Essity Hygiene and Health AB